Which Drugs or Foods React With Thiazolidinedione?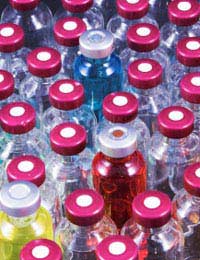 Despite their good, healing qualities, all drugs can pose some risk if not taken correctly or taken in conjunction with other medicines. Certain medicines can react badly with certain drugs, foods and drinks. Thiazolidinediones are one such drug group.
Diabetes is a serious disease that affects millions of people worldwide. It is characterised by insulin deficiency, which causes necrosis, heart disease, blindness and even death.
There are a variety of treatments available to control the disease, including a range of drugs known as thiazolidinediones. Thiazolidinediones or TZDs act by binding to peroxisome proliferator-activated receptors, specifically PPARI. When activated, the receptors migrate to sufferers' DNA, activating the transcription of a number of specific genes. By activating PPARI, sufferers' resistance to insulin is decreased, making treatment more effective.
Like any drug, TZDs have a range of contra-indications, including drugs that react badly with them. But even in isolation the drugs can cause liver failure, a fact that led to the withdrawal of troglitazone, a TZD treatment. Doctors prescribing such drugs recommend regular check-u ps during the first 12 months of courses.
Other Medicines to Avoid
Drugs to avoid when using TZDs include Bosentan, a treatment used to combat high blood pressure, because the combination multiplies the likelihood of liver problems. Beta-blockers, used to tackle coronary illness, must also be avoided because of the extra risk of low blood sugar. The combination can also hide the signs of this condition, making it more difficult for physicians to identify and treat it.
The risk of low blood sugar levels also prohibits combining TZD use with drugs including azole anti-fungals, chloramphenicol, clofibrate, fenfluramine, metformin, monoamine oxidase inhibitors, non-steroidal anti-inflammatory drugs (eg ibuprofen), phenylbutazone, probenecid, quinolone antibiotics, salicylates such as aspirin plus sulfonamides. Anticoagulants including warfarin must also be avoided when using TZDs because their effectiveness may be decreased and the risk of side effects increased.
Food And Drink
Certain food or drink can also affect the medicine's efficacy or worsen its side effects. For example, patients taking TZDs should avoid drinking alcohol as it can increase the risk of low blood sugar.
TZDs have also been connected with weight gain, the long-term effects of which are likely to be deleterious. Indeed, the drug has seen some patients gain so much weight that treatment has had to be stopped. Studies have also shown an increase in the risk of edema, the build-up of fluid in tissue, from TZD use.
As always, patients must carefully follow the instructions provided while taking the drug, but it would also pay them to research its history too.
As mentioned above, troglitazone, which alongside rosiglitazone and pioglitazone makes up the TZD group, was withdrawn from Europe in 1997 because of reports of liver toxicity. It remained available in the US but was linked to at least 90 cases of liver failure. Seventy patients required transplantation procedures or died. It was withdrawn in March 2000.
Although newer treatments based on TZD have had less serious repercussions, the drug has had a spotted history. When using TZD-based treatments, caution is a must.
You might also like...