Which Drugs or Foods React With Enoxaparin?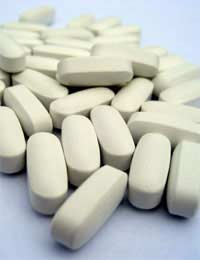 Enoxaparin is a type of anticoagulant drug that helps to prevent the process of blood clotting in the body.It is used widely to prevent and treat deep vein thrombosis or pulmonary embolism, and is given as an injection by a nurse, doctor or the patients themselves. Enoxaparin is therefore a vital drug used by thousands of patients across the UK to stop the movement of blood clots through their blood vessels, stopping the potential blockage of blood supply to the heart, lungs or brain.
Enoxaparin, commonly referred to via the brand names of Lovenox HP and Clexane, inactivates a compound in the pathway to the heart called thrombin, which plays an important role in blood clot formation. The drug should not be used by those who have previously had a peptic ulcer, a stroke, eye surgery or had surgery of the brain or spinal cord.
Why Do Blood Clots Form?
Blood clots normally only form to stop bleeding that has occurred as a result of injury to the tissues. Sometimes, however, a blood clot can form abnormally within the blood vessels, a process known as a thrombus. It can be dangerous because the clot may detach and travel in the bloodstream, where it becomes known as an embolus. It is possible for the embolus to get stuck in a blood vessel. This can block the blood supply to an organ for example the heart, brain or lungs.
Side effects to the use of enoxaparin can include bleeding, osteoporosis after long term use, in rare cases the presence of blood clots in the spinal cord and the death of skin cells at the site of injection, but these will all vary greatly from patient to patient.
Anticoagulants also carry with them the risk of interaction with other drugs particularly when they are used with medicines that affect blood clotting.These medicines include non-steroidal anti-inflammatory drugs (NSAIDs) such as diclofenac, which is used to reduce pain in conditions such as arthritis.
Medicines like aspirin that combat the build up of platelets - bodies of cells that kickstart the formation of blood clots - may also cause bleeding and other anticoagulants such as warfarin can also cause a patient serious problems, so it is always important to consult your doctor if you are using enoxaparin and considering using a painkiller.
When spinal anaesthesia or pain relief is used with enoxaparin there is an increased risk of developing a blood clot in the spine – a haematoma. This can result in long term or permanent paralysis. The risk is rare with low doses of enoxaparin, but increases with higher doses and if NSAIDs such as ibuprofen are used at the same time.
What Food React With Enoxaparin?
Some food types also react with enoxaparin and people should tell their doctor if they are allergic to pork and pork products. Horse chestnut, ginger, vitamin D and digitalis, found in the foxglove plant, can also cause someone problems by interacting with anticoagulants.
Vitamin K, found in leafy green vegetables, should be avoided by people who suffer from blood disorders because it can produce a blood-clotting substance. It can prevent anticoagulants from working correctly.
You might also like...
I am presently treating a DVT with clexane. I have also read so many articles which state that ginger has blood thinning properties and can be used as a home remedy for treating DVT. From the above article, it was stated that ginger can cause some problems by interacting with anticoagulant. I also take ginger with my tea and other home made drinks. What do you advice? Should I remove ginger from my diet?
MJay
- 18-Jan-21 @ 4:35 PM