Which Drugs or Foods React With Inhibitors?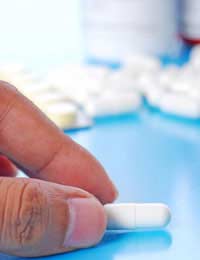 Medication always poses a minor risk. Putting chemicals into your body can always be a bit dangerous. However sometimes it is the combination of drugs and foods, or other medication, that can cause problems.
Inhibitors
Inhibitors are drugs that are used to inhibit a problem, generally used to lower blood pressure. ACE inhibitors slow the activity of enzyme ACE- a common factor in high blood pressure. There are also other types of inhibitors that work in different ways for different illnesses.
ACE inhibitors slow blood pressure down and with lower blood pressure, it becomes easier for the heart to pump blood through the body. This can improve the heart function, which can lower the risk of hypertension, heart attacks and strokes. The progression of kidney disease and diabetes can be slowed from this too. A doctor may also prescribe ACE inhibitors for those who have suffered from a heart attack.
There are variants of ACE inhibitors, although they are very similar. The medications can be taken in the form of a tablet, capsule, liquid or intravenous injection. Your doctor will discuss with you which is the best form for you to take. It is important to be aware of how to take your medication and you should discuss this with your doctor or pharmacist and also to read the instructions. The first dose of ACE inhibitors may cause dizziness, fainting or nausea. It is recommended to take the first dose at before you go to bed.
Speak to Your Doctor
It is likely your doctor will advise you on undertaking exercise. You should maintain these activity levels for the duration that you are taking the inhibitors. It is advisable to drink sufficient liquids and be careful whilst outside and in hot weather.ACE inhibitors do not have many interactions with other drugs. ACE inhibitors may increase levels of potassium in the blood and so it is recommended that you do not take potassium supplements, salt substitutes or other drugs that would increase the body's potassium levels. Aspirin, non-steroidal anti-inflammatory drugs (NSAIDS) such as ibuprofen and naproxen may reduce the effects of ACE inhibitors. You should also discuss with your doctor or pharmacist about any over-the-counter medicines you are taking.
Patients taking ACE inhibitors should not drink alcohol as it can lower blood pressure. Grapefruit juice should also be avoided as it can obstruct the liver's ability to get rid of substances, which could lead to a build up of the medication in the system.
ACE inhibitors are usually not prescribed for pregnant women as there is a risk they may cause birth defects. Those suffering from liver or kidney disease should also not take ACE inhibitors.
Side effects that are typical with all types of ACE inhibitors include:
coughing elevated potassium levels in the blood low blood pressure resulting in dizziness headaches, weakness and drowsiness abnormal tastes in the mouth (metallic or salty taste) rashes
More serious side effects of ACE inhibitors can include are kidney failure and tissue problems. It could take prolonged length of time for coughing to subside but you should consult your doctor if you have any of the above symptoms.
You might also like...
@Jojo - it sounds like a case of keeping to what has been tried and tested! Hope you're now back to normal.
Liz47
- 19-Jul-18 @ 10:02 AM
I have been on Nardil for many years, and have had one or two incidents in the past, headaches mostly. Yesterday I made myself a meal of yoghurt blueberries and blackberries, trying to be Healthy. Within an hour I began to feel dizzy, it become very severe, I tried to make my way to the bedroom, thinking if I could lay down my right foot had gone numb and funny feeling, I got to my bed, I was nauseous, cold clammy, the pain in my head, and agitation in chest stomach, if I laid down, the dizziness became far worse. I phoned for help, eventually my husband and son in law turned up. Eventually I think I may have panicked because it was so bad I had never had this situation before, but it was terrifying I could do nothing to stop the symptoms. Eventually over an hour after it started, the dizziness eased, but almost 24 hours later I still have a headache. One previous episode had seen me taken to hospital, where I seemed to have no blood pressure, but as a rule any transaction with food resulting with headaches. Yesterday was so shocking, I am almost frightened to eat now, I have never seen those berries on the lists to avoid, but on closer searching they are named as food to avoid, so if they were not on the list, how many more common foodstuffs will be out there, which could potentially kill me. I have no doubt that yesterday was a very serious episode, but is there anything one can do, to which counters the effects. Kind regards Josephine Davies. Ps I am a 71 year old lady, acts 50..I have been on and off these particular drugs for the past 40 years. They appear to be the only ones that help.
Jojo
- 18-Jul-18 @ 9:02 AM