Which Drugs or Foods React With Meglitinides?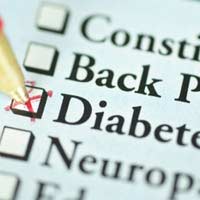 Treating diabetes can cause complications if the medicines used interact with other drugs or foods.
Meglitinides
Meglitinides are a type of diabetes medication that are available in pill form. They are prescribed predominantly for patients who suffer from high blood glucose directly after meals or for those who have irregular meal times. Meglitinides are usually taken just before a meal so that they induce the body to release insulin just after eating when it is required most.
Meglitinides are known as 'fast in, fast out' medication for diabetes as they have a rapid onset and peak, yet last for a shorter duration than other drugs prescribed for those afflicted by the disease.
As there are three defects in Type 2 Diabetes it is often recommended that a patient undertakes a course of a second medication as well as meglitinides, this is known as combination therapy. It is essential to have these specific drugs prescribed by a physician, as there are many different types and brand names of meglitinides that have varying effects when taken in conjunction with other medications.
Alerting Your Doctor
Due to the fact that there are a few separate types of drug-drug interaction it is best to be fully aware before beginning a course of meglitinides. In terms of taking over the counter products or dietary supplements its important to alert a doctor when taking meglitinides as the dosage of one or both drugs may require modification, replacement or even elimination.
For prescribed medications there is a long list of drugs that interact negatively with meglitinides. When the following is taken as well, it will increase the effectiveness of meglitinides to a dangerous level, potentially resulting in hypoglycaemia: azole antifungals, salicytes, NSAIDs, monoamine oxidase inhibitors, thyroid hormones, sulfonamides, erythromycin, non-selective beta blockers, probenecid and some oral contraceptives.
At the other end of the spectrum the following drugs will have the opposite effect in that they will have a decreased effect on the meglitinides, possibly resulting in hyperglycaemia; barbiturates, corticosteroids, thiazide diuretics, carbamazapine, rifampin, calcium channel blockers, isoniazid, nicotinic acid, estrogens, phenytoin, sympathomimetics, phenothiazines, thyroid supplements and some oral contraceptives. Because of these worrying possibilities it becomes vital that blood glucose levels must be closely monitored when taking any of the above in tandem with meglitinides, or ideally have the other medication discontinued or replaced.
Due to the vastness of the list of potentially dangerous interactions a lengthy discussion with a doctor is the best thing to do before undertaking a course of meglitinides. It is also advisable to be fully aware beforehand that the key medications to be cautious with when taken with meglitinides are any drugs that increase or decrease blood glucose, other drugs that are highly protein bound and drugs that inhibit or induce hepatic P450 enzymes.
After the exhaustive list of drugs that interact with meglitinides, the good news is that recent and extensive studies have yet to discover any drug-food interactions in the case of meglitinides. This means for the time being patients prescribed meglitinides are perfectly safe to eat as they wish without fear of negative food interaction.
You might also like...