Which Drugs or Foods React With Sulfonylureas?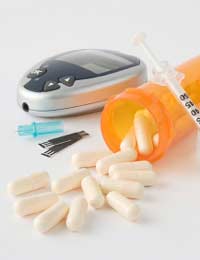 Diabetes affects a large number of people so understandably there are a variety of different treatments - all of which can interact with other medicines and or foods.
Sulfonylureas
Sulfonylureas are used predominantly by people who suffer from diabetes mellitus type 2. This form of diabetes is known as 'adult onset' due to the typical time in a patient's life when they are diagnosed with the disease.
The two exceptions to the aforementioned standard is that sulfonylureas are not prescribed for those with type 2 diabetes whose beta cells are no longer capable of producing insulin. This can be due to either an absolute deficiency of insulin production or the patient being post-pancreatectomy. Secondly, sulfonylureas are prescribed for people with a rare form of diabetes type 1.
Sulfonylureas act by stimulating the beta cells in the pancreas into producing more insulin. This means that doctors are able to avoid the necessity of prescribing regular insulin injections as they can offer sulfonylureas as a less troublesome alternative. In many instances sulfonylureas will be prescribed with other drugs for a positive drug-drug reaction, this is known as combination therapy. However, when on a course of sulfonylureas it is essential to be aware of taking anything else that also has an effect on the blood sugar level, whether it be increasing or decreasing in it's actions, that has not been recommended by a professional. For instance, alcohol and decongestants should be avoided as taken with sulfonylureas as they will reduce the blood sugar level.
Variety Of Drugs
Because of the artificial function of the drug within the body's system there are a huge variety of drugs that cannot be taken with sulfonylureas. The following should be avoided as they will increase the effectiveness of the drug leading potentially to hypoglycaemia; anti-coagulants, salicytes, sulfonamides, androgens, chloramphenicol, ciprofloxacin clofibrate, fluconazole, fenfluramine, gemfibrozil, azole antifungals (with glyburide), methyldopa, monoamine oxidase inhibitors, probenecid, H2 antagonists, sulfinpyrazone, tricyclic antidepressants, magnesium salts and urinary acidifiers.
On the other hand, certain medications can have the opposite result. These drugs will lower the effectiveness of sulfonylureas leading potentially to hypergylcemia; beta blockers, calcium channel blockers, corticosteroids, thiazide diuretics, cholestyramine, hydantoins, diazoxide, estrogens, phenothiazines, sympathomimetics, rifampin, isoniazid, nicotinic acid, urinary alkalinizers, thyroid medications and oral contraceptivesRemarkably, that is not the end of the matter, further drugs to be avoided when taking sulfonylureas are; NSAIDs (non-steroid based drugs), naproxen, disopyramide, dicumarol, indomethacine, phenylbutazon, pentamidine angiogenesis and converting enzymes.Due to the sheer scale of drug-drug interactions with sulfonylureas it is best to present a Doctor with a full list of any medications; prescription, over the counter or otherwise before beginning a course of sulfonylureas. On the plus side studies have not found any serious interactions between sulfonylureas and any kind of food. The only link is that the absorption of glipizide (a form of sulfonylurea) is slightly delayed by food. All other sulfonylureas may be taken with or without food.Finally, as sulfonylureas are potentially teratogenic they cannot be utilised during pregnancy or even by those who may become pregnant.
You might also like...