Which Drugs or Foods React With Aspirin?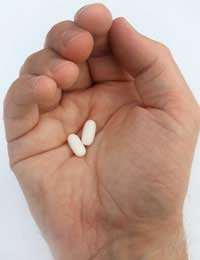 Aspirin is a pain reliever, used to treat moderate to severe pain and fever. It can also be used to prevent strokes or treat heart attacks and arthritis. It can be used for other illnesses and it is an over the counter medicine. Just because it can be bought without a prescription though does not mean that there are not risks involved with taking it.
Aspirin is likely to react with the following drugs and should not be taken if any of the following medicines are being used:
cidofovir
ketorolac
probenecid alendronate bismuth subsalicylate cidofovir Eldepryl Marplan Nardil Ibuprofen Parnate sulfinpyrazone warfarin methotrexate procarbazine
This list is not exhaustive and you should consult your doctor or pharmacist to discuss any other medicines that you are taking.You should also consult your doctor if you are taking medicines for diabetes or glaucoma, medicines for gout or medicines that treat or prevent blood clots. Alcohol is not to be consumed when taking aspirin. You should also avoid herbal medicines like ginko biloba, feverfew, garlic, ginger and horse chestnut.
You should consult with your doctor or pharmacist if you suffer from anemia, asthma, liver or kidney disease. It is advised not to take aspirin if you have a low level of vitamin K. Be sure to let your doctor know if you have ever suffered from any unusual or allergic reactions to aspirin, tartrazine dye, other medicines, dyes, or preservatives.You must let your doctor know if you are pregnant or planning a pregnancy before using this medicine, because it may be harmful to an unborn baby. Also, if you are breastfeeding, be sure to discuss with your doctor before using this medicine.
Side effects from aspirin include allergic reactions like skin rash, itching and swelling of the face. Changes in behaviour can occur in some people and they can become confused and develop ringing in their ears. In general, people taking aspirin may feel weak and tired and you should tell your doctor immediately if you develop any of these side effects.
Aspirin should be taken with a glass of water and can taken with or without food. However, if it upsets your stomach, make sure you eat before taking it in future. Take aspiring medicine at regular intervals, usually four hours in between each dose. Do not lie down for 30 minutes after taking aspirin so that you can avoid any irritation to your throat that may occur. Aspirin can be taken in a variety of forms including chewable tablets, chewing-gum, gastro-resistant tablets, aspirin oral capsule, aspirin oral tablet, and aspirin rectal suppository.
Ensure that you do not take aspirin more often than directed in the label or instruction booklet. As aspirin can be purchased over the counter and if you are treating yourself for any pain, be sure to tell your doctor the pain lasts more than 10 days after taking aspirin.You may need to stop taking aspirin if you are scheduled for any medical or dental procedure so let your doctor or dentist know if this is the case.
You might also like...
I had breast cancer 18 months ago. I had a mastectomy and have had chemo and radiotherapy Medication I am taking: Zoledronic Infusion every six months Adcal Letrozole 2.5mg Levothyrozine 62.5mg I am taking part in clinical trials for Aspirin and after reading above I am concerned as to whether I should continue taking part. Would appreciate your thoughts on this matter.TIA
annebet
- 6-Oct-20 @ 10:04 PM