Which Drugs or Foods React With Warfarin?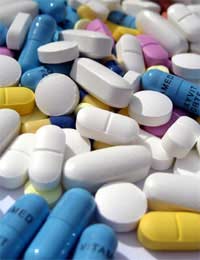 Warfarin is medication taken to thin the blood and mainly to prevent blood clots. It is an anticoagulant and is available to take in both tablet and liquid form. There are several food and drugs that react with warfarin so users must be careful.
If you take too much warfarin, you are at the risk of excessive bleeding. If you take too little, warfarin may not work and so the risk of blood clots is still high and can lead to heart attacks or strokes among other illnesses.Some drugs including prescription, over-the-counter, vitamins and herbal remedies may interact with warfarin and change the level of warfarin in the body that has been taken. Because of this, it is important to discuss with your doctor about any other medication you are taking. You should let your doctor know of anything that you are taking that you are not sure of.
What Drugs Interact With Warfarin?
Drugs that may interact with warfarin include:
antibiotics non-steroidal anti-inflammatory agents antidepressants stomach ulcer / acid reducing lipid lowering agents antifungal agents
This is not an exhaustive list. Your doctor or pharmacist will be able to advise you further. Herbal medicines that are known to show an interaction with warfarin include ginseng and ginko biloba. They can reduce and increase the effects respectively but the warfarin levels must remain stable in order for it to work.
Vitamin K may also decrease the effects of warfarin and so it is advised to stop taking any vitamin k supplements and to also avoid large intakes of foods high in vitamin k such as liver, cranberries, brussels sprouts, broccoli, and green leafy vegetables like spinach and cabbage.
You are still able to drink alcohol when taking warfarin but you should lower your intake and drink in moderation whilst using the medication.
When Shouldn't I Take Warfarin?
You should not take warfarin is you are pregnant, trying for a baby or breast-feeding. Let your doctor know if you have suffered from any kind of blood disorder, thyroid problems or if you have had or are due any surgery.
You may suffer from the following side effects:
BleedingUnusual bruisingDiarrhoeaSkin rashesNauseaHair loss
You should take the warfarin, as prescribed by your doctor or pharmacist, at the same time each day. You should read the instructions carefully and if you have any questions, consult your pharmacist. Make sure you eat little and often and if you suffer from any of the above symptoms, discuss with your doctor. If you notice any yellowing of the skin or the whites of the eyes, be sure to seek professional medical help immediately.
It is essential that you have your blood tested regularly as your dose of warfarin may need to be adjusted. Do not change your routine unless you have been told to do so by your doctor or pharmacist. You should be given an anticoagulant record book. Keep this with you and ask your doctor if there is anything you do not understand.
You might also like...
Papa - Your Question:
I take 6mg warfrain daily after having pulmonary embolism covering both lungs.Can I take an antihistamine.?
---
Our Response:
We cannot advise on this - you would have to consult your GP directly.
FoodAndDrugInteractions
- 17-May-17 @ 11:41 AM
I take 6mg warfrain daily after having pulmonary embolism covering both lungs. Can I take an antihistamine .?
Papa
- 16-May-17 @ 6:37 PM
I take 6mg Warfarin daily & have been on it for 17 years - can I take antihistamines at the same time?
lalamolly
- 20-Jun-14 @ 8:32 AM
On Warfarin due to pulmonary embolism in right lung.
Thelma
- 22-Jul-13 @ 5:24 PM
I eat a lot of cheese will this do me any arm I take 3mg warafrin a day plus digxon, biospol, any ther med I have had cardivertion it only lasted 2hrs and I after have it done again, my nir is low at the moment
flick
- 24-Feb-13 @ 4:36 PM
Can I take Throat tablets or cough mixture whilst on Warfarin?
pip
- 7-Feb-13 @ 11:10 AM
I AM ON 2/5 MG DAILY FOR THE LAST YEAR SUDDENLY MY KNEE HAS SWOLLEN AND THE PAIN PREVENTS ME WALKIN ANY ANSWERS PLEASE THANK YOU.
herman
- 6-Jul-12 @ 5:26 PM
Am on Warfarin at the moment taking 7 mg per day I have heard that beside the items mentioned in the article you should not take Benecol, if this is the case what about Pro Active spread doe this apply
Parky
- 30-Jan-12 @ 3:36 PM