Which Drugs or Foods React With Biguanides?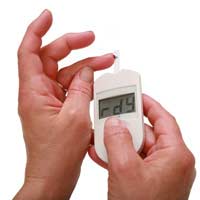 Biguanides are a group of oral anti-diabetic agents that can be used along with a specific exercise and diet programme to treat type 2 diabetes.
What Are the Drugs Used For?
The drugs help those who suffer from diabetes by lowering blood-sugar (glucose) levels in the body and in doing so ensure that the liver does not produce too much glucose.Biguanides also slow the absorption of glucose from food in the small intestine and increase the sensitivity of muscle tissue to insulin, a hormone that allows glucose from the bloodstream into the cells.Two common types of the drug, which are the most prescribed across the UK to treat type 2 diabetes, are glucophage and metformin and they are highly effective in generating this important and sometimes life-saving process.Metformin can help people to lose weight, unlike other diabetic medications such as amaryl, and are often recommended as a single drug treatment for obese patients. They are not, however, without side effects.
Side Effects
Biguanides can leave those who use it regularly with nausea, diarrhoea, flatulence and anemia. The most serious effect, though it remains rare, can be the build up of lactic acid throughout the body in a process referred to as lactic acidosis. People can tell if this is happening if their breathing suddenly becomes rapid or if they start to suffer from abnormal stomach pains that fail to subside. This can occur among people who suffer from kidney or liver problems.
Speaking to Your Doctor
Aside from describing in more detail these side effects, your doctor will also be able to provide insight on a sensible diet to adopt while taking biguanides and details on which drugs interact with medicines such as metformin. Some people with diabetes leave themselves open to severe reactions if they are not aware of these interactions.Biguanides usually interact well with most other medications, but patients should consult their physicians before taking any extra prescriptions, over-the-counter medications, nutritional supplements or herbal medications.
There are several key medications that react badly with biguanides and it is imperative that people consult their doctor if they reach a situation where they may need both.Those that do interact and leave lasting side affects include calcium channel blockers along with the antibiotics trimethoprim or vancomycin, which are both used to treat infections with bacteria. Some diuretics including amiloride and furosemide - drugs that increase the amount of urination from the body – can also interact with biguanides and cause painful sensations.
The gastrointestinal medications cimetidine or ranitidine and the heart medication digoxin can also create various problems in the body if used alongside metformin.Morphine, the anti-malaria drug quinine and warfarin, a blood thinner, should also be avoided when using biguanides. In terms of diet, patients who take biguanides must be careful to limit their consumption of alcohol, as they can become sick if they consume more than two to alcoholic four drinks a week. Drinking alcohol can lead to hypoglycemia (low blood glucose), which can be dangerous.
Some herbs such as ginkgo biloba, used in Chinese herbal medicine, should also be avoided when taking biguanides.
You might also like...