Will My Doctor Inform Me About My Diet and Medication?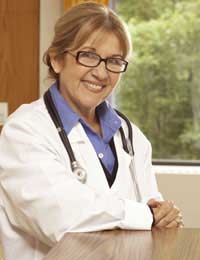 When you take medication to help with an illness, sometimes the drugs can have an adverse reaction and often because they have an interaction with some food intake. Drug interaction can occur at the absorption of the drug, during the drug action and through elimination. An adverse drug reaction can occur in anyone, although those taking more than three or four medicines every day are more likely to suffer from a reaction. Over-the-counter drugs, herbal products, supplements and vitamins can also be the cause of an adverse reaction when taken with particular drugs.Some symptoms of medicines and foods reacting together are:
skin rash
tiredness
constipation or diarrhoea
confusion
frequent falls
depression
excess drowsiness or dizziness
decreased sexual behaviour
Reactions between drugs and food are more typical in older people simply because they take more medication than younger people. Physical symptoms such as fatigue or weight loss will often not be recognised as a reaction to drugs in older people because they are similar to regular ageing symptoms. If you develop any of the symptoms mentioned, shortly after taking new medication, you should alert your doctor immediately.
Avoiding a Reaction
To avoid an adverse reaction you should read the prescription label of the medication carefully. If you don't understand something, ask your doctor or pharmacist. Make sure you are aware of all of the directions, warnings and interaction precautions that will be on the containers, including over-the-counter medicines. Unless your doctor tells you otherwise, you should take your medication with a full glass of water. This should not be a hot drink as that can stop the drugs from working. Do not mix your medication into food as this can change the way in which the drug works. It is also advised that you do not drink alcohol when taking medication.
When an adverse reaction is diagnosed, your doctor might tell you to stop taking the medication so that the symptoms can go away by themselves and the reaction will not occur again. However, if the medication you are on is working, your doctor might ask you to take another medicine to treat the reaction. Do not stop taking a medicine on your own; always speak to your doctor first.
If you are ever concerned about your diet and medication, it is important that you seek your doctor's advice. They can help you with your diet so that it fits with your lifestyle and will be able to recommend the right foods for the medication you are taking so that you can lower your risk of a reaction.
Discussing with your doctor can also help to limit the number of medicines you take, if necessary, and also work with you so an adverse reaction is less likely. You should also try to use only one pharmacist so they get to know you and the medicines you are taking. They are also more likely to know whether they might cause an adverse drug reaction. If your doctor is not helpful then you should seek a second opinion or change doctors.
You might also like...