How Do I Find Out if Foods React With Drugs?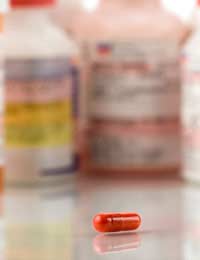 With some food and drug interactions we already know the effects. For example we know if you take pain killers on an empty stomach you could be ill. Most food and drug interactions are clearly listed on the medication label. When you are prescribed medicine the label on the packet will inform you of what to avoid when taking that medication and what changes to your eating habit you may have to make. You may be told you should take the medication before taking any food. You may be told to avoid any alcohol when taking the medication. You may be told to avoid certain other medications when taking the medication. The label should clearly tell you what to do with regards other food and drugs and which ones you should be avoiding.
This label also tells you how and when to take the medication. Your doctor will have informed you of this at the time he or she prescribed the medication but it will also be clearly listed on the medication label and the pharmacist will inform you once again when you collect your prescription.
With medicine that is not prescribed but instead bought over the counter you will either be told by the pharmacist how to take it or it will be included in the information on the box, often both. The information should also tell you what food and drink to avoid when taking this medicine.
Research
If you are still unsure about what food or other drugs react with the medication you are taking you should do some research of your own. The Internet is a great place to start and you should easily be able to find information on the medication you are taking including details of any known reactions that could occur when taking the medication alongside other medicine or with certain foods or drinks.
Unknown Reactions
However, since everyone is different sometimes a patient will suffer a reaction between food and medication or between two different medications that the doctor was not aware of. When this is the case you should consult your doctor immediately and stop taking the medication. It is unlikely this will happen but it is not completely unheard of so if you have any doubts make an appointment with your doctor immediately.
Drug and food interactions are not uncommon. The effects caused by them vary greatly from relatively minor side effects such as itchy skin or a little nausea to serious effects. They should not have side effects though so you should always speak to your doctor. Often patients feel like they are becoming a nuisance if they contact the doctor about minor worries but it is vital that your doctor understands the effects of the drugs you are taking.
If after speaking to your doctor you still feel a bit concerned then you should seek a second opinion. You can call NHS Direct or speak to another doctor. If you are worried, getting a second opinion can put your mind at ease.
You might also like...