Which Drugs or Foods React With Beta Blockers?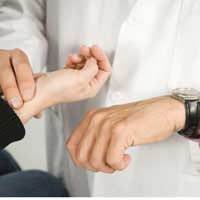 It is unfortunate but true that some drugs react badly with certain foods. Because of this it is vital that patients are aware of which foods and drink they should avoid when on certain medication.
Beta Blockers are prescribed in order to take some of the pressure off the heart so that the organ does not have to undertake the same level of strain as it pumps blood around the body. Beta Blockers have been in common use for blood pressure (hypertension) since the 1970's and there are now an estimated 2 Million people in the UK alone who take Beta Blockers for this one ailment.
Today, they are also prescribed for glaucoma, anxiety disorders, angina and numerous other heart related problems. This includes their usage for previous heart attack sufferers who are prescribed Beta Blockers in order to lessen the chances of a repeat event.
If a course of Beta Blockers is to be undertaken it is crucial that the patient informs their GP beforehand if they suffer from the following; diabetes, high or low blood pressure, ulcers, glaucoma, an enlarged prostrate, poor bladder control, insomnia or asthma as these illnesses are susceptible to negative drug-disease interaction with Beta Blockers.
There are many different types of Beta Blockers and they are available as prescription in three alternative forms; tablets, injections or eye drops (the latter for glaucoma sufferers only). Beta Blockers are often prescribed in tandem with diuretics and calcium channel blockers but there are other drugs and foods that should be avoided.
So you should check with your pharmacist or Doctor if you are taking any other medicine or herbal remedies. In particular, the following must be mentioned to a professional: diuretics, cold preparations, nasal congestants, reserpine, plus any other heart or blood pressure medication.
Treatment
The prescribed treatment of diabetes, asthma and impotency are the three main illnesses that Beta Blockers react negatively with. Antidiabetic medicine will have a lesser effect in combination with Beta Blockers and can lead to dangerously low blood sugar levels. Studies now suggest that Beta Blockers could even increase the risk of diabetes as Beta Blockers make it difficult to know exactly when a person's blood sugar levels are naturally too low. Impotency drugs such as Viagra or Cialis should not be taken with Beta Blockers unless cleared by a GP. In terms of Beta Blockers for Glaucoma there are some drugs taken to treat a cold that may worsen the eye condition.
Goldenseal is highly recommended for coughs, menstrual problems, stomach upsets and arthritis. However, it has an ingredient that will raise the taker's blood pressure, which can lead to complications for those on a course of Beta Blockers. St. John's Wort is another herbal remedy that should be completely avoided when taking Beta Blockers due to its effect upon the blood stream.
Beta Blockers should be taken on an empty stomach as food in general and especially meat increase the drug's potency potentially leading to dizziness and dangerously low blood pressure.
As with most medication, alcohol should be avoided with Beta Blockers. This can be a particular problem in the entertainment sector where many performers take Beta Blockers to control their nerves whilst on stage.
You might also like...