Which Drugs or Foods React With Nitrates?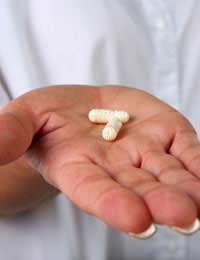 Nitrates are regularly prescribed for patients suffering from angina. The disease is caused by the build-up of a fatty substance that then narrows the coronary arteries. Nitrates do not prevent this underlying cause of angina but they do actively ease and prevent angina pains as they assist in dilating the blood vessels in the body. This means that it is easier for the heart to pump blood and thus reduces the burden on the crucial organ.
GTN is the most common type of nitrate on offer for angina sufferers. It is available in spray or tablet form for ease of use so that sufferers can carry their medication round with them at all times. When required they simply apply the medicine under their tongue and this is quickly integrated into the blood stream.
Effects
With any course of medication it is essential for the patient to realise that drugs taken together can have a catalogue of effects. These interactions may vary based on dosage, age, sex and overall health. Differing medications entering the body over the same course of time can diminish or heighten the effects of one or even fuse together to create a fresh interaction. There are three different types of interaction; drug - drug, drug – nutrient (i.e. food or herbs) and drug – disease. Drug – drug interaction can cause duplication, opposition or even alteration to how the body copes with either drug. All possibilities have potentially negative effects for the patient ranging from mild discomfort to fatality.
This means that it is essential to alert your GP of any other medication you are taking before you begin a course of Nitrates; particularly drugs for high blood pressure, certain migraine drugs or regular high doses of aspirin. This also applies to none prescription drugs with street names such as "poppers."
Disorders
There are various disorders with which nitrates should not be taken, these are; aortic stenosis, constrictive pericarditis, nitral stenosis, hypertrophic obstructive cardiomyopathy and closed-angle glaucoma. However, the latter is the more unusual form of the eye condition and nitrates are suitable for a sufferer of the common form, open-angle glaucoma.
The main illness' medications that nitrates should not be taken in conjunction with are impotency drugs. Especially cialis, sildenafil (more commonly know as viagra) tadalafil, vardenafil or many other drugs taken for erectile dysfunction. If this is not adhered to the consequences can be extremely serious and potentially fatal.
Alcoholic beverages should also be avoided as when drinking, the alcohol may add to the blood vessel relaxing qualities of Nitrates, leading to dangerously low blood levels which can cause dizziness, fainting and far more serious complications.
There are many prescription medications that are compromised by a far ranging variety of foods and herbs. However in terms of Nitrates there are no specific types that as of yet have been proven to have a negative effect. However it is best to speak to your GP about this as a precaution and for piece of mind. Your doctor will be able to inform you of any food or drink that could affect your condition or medication.
You might also like...