Which Drugs or Food Interact With Antidiarrhoeals?
By: Suzanne Elvidge BSc (hons), MSc - Updated: 15 Sep 2012
|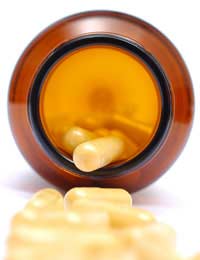 Antidiarrhoeals are used to treat diarrhoea, and act in a number of different ways. Electrolyte solutions replace the fluids and salts that are lost in attacks of diarrhoea.
As well as being used as laxatives (see 'Drugs or Food That Interact With Laxatives'), bulking agents can help diarrhoea in functional bowel disease, by making stools thicker.
When diarrhoea is caused by infections, absorbents can absorb toxic substances. And finally, anti-motility drugs slow down peristalsis, the movement that pushes stools through the gut.
Antispasmodic agents can help the pain associated with irritable bowel syndrome.
Acute diarrhoea (gastroenteritis) is usually self-limiting, which means it will often resolve without treatment. Using antidiarrhoeals drugs in infectious gastroenteritis, especially in the first 24 hours, can slow the process of getting better as they delay clearing viruses or bacteria from the body.
Talk to a pharmacist or doctor if you have any concerns over food or drug interactions, or if you are taking a new drug or food supplement, even if it is a common, over-the-counter one. Carefully read any instructions with the medicine.
What's in an Antidiarrhoeal?
Drugs used as antidiarrhoeals include:
electrolyte solutions – half a level teaspoon of salt and 8 level teaspoons of sugar in 1 litre of water
bulking agents – methylcellulose, guar gum, plant fibre such as bran, sterculia, psyillium husk, seeds or hulls, ispaghula husk
anti-motility drugs – opioids, including loperamide, morphine, diphenoxylate, codeine; anticholinergic drugs, such as hyoscine, atropine, dicyclomine; bismuth subsalicylate
absorbents – kaolin, kaolin and pectin, charcoal
antispasmodic agents – dicyclomine, mebeverine, alverine, peppermint oil
What Drugs Interact With Antidiarrhoeals?
All antidiarrhoeal drugs, especially absorbent drugs, can reduce the amount of drug absorbed – when taking with other drugs, either avoid using the antidiarrhoeal, or leave up to four hours between taking an antidiarrhoeal and taking the other drug.
Anti-motility drugs can make phenobarbitone and opioid analgesics more effective, increasing the risk of either overdosing or side effects. Anti-motility drugs can make the diarrhoea caused by antibiotics worse. Avoid taking anti-motility drugs with codeine or other opioid drugs – this can cause severe constipation.
Nefopam (a painkiller) and disopyramide (treats heart arrhythmia) can increase the effects of atropine, and some drugs, including antidepressants, antipsychotics, antihistamines and amantadine (used in viral infections and Parkinson's disease) can make the side effects of atropine worse.
Diphenoxylate and atropine can cause drowsiness, and this can be made worse by taking with other drugs that cause drowsiness. Naltrexone will make diphenoxylate and atropine less effective.
A number of drugs can enhance the activity or side effects of anticholinergic drugs, including amantadine, some drugs for heart arrhythmias, antihistamines, antipsychotic agents (agents for schizophrenia), benzodiazepines (anti-anxiety drugs), MAO inhibitors antidepressants), narcotic analgesics, nitrates and nitrites, sympathomimetic agents and tricyclic antidepressants. Anticholinergic drugs can stop glaucoma drugs working.
Kaolin-pectin can increase the activity of digitalis glycosides (used in heart disease).
Bismuth subsalicylate should not be used by people with sensitivity to aspirin.
What Foods Interact With Antidiarrhoeals?
Anti-motility drugs can make the effects of alcohol more marked.
Atropine and diphenoxylate can cause drowsiness, and alcohol can increase this.
You might also like...