Drugs or Food That Interact With Laxatives
By: Suzanne Elvidge BSc (hons), MSc - Updated: 15 Sep 2012
|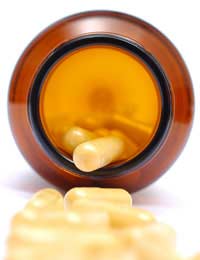 Laxatives are used to treat constipation, and act by promoting bowel movements. Laxatives work in different ways. Saline cathartics act by attracting water into the gut, making the stool more liquid, and stimulant and irritant laxatives increase the movement that pushes stools through the gut, which is called peristalsis.
Bulk-producing laxatives are probably the simplest, and act by making the stool larger, which softens it, as well as increasing gut movement. This is how dietary fibre, including bran, treats and prevents constipation.
Stool softeners (also known as emulsifying agents or surfactants) increase the amount of water in the stool by reducing surface tension, making the stool larger and softer, and are used to prevent constipation, rather than treat it. Emollients stop the gut absorbing water from the stool, so making the stools softer, and also act as a lubricant. Finally, hyperosmotic laxatives hold water in the intestine, and may also increase gut movement.
Too frequent use of laxatives can lead to dehydration and lack of nutrients. People can reduce their need for laxatives by eating fibre-rich foods including fruit, vegetables, pulses, dried fruit and whole grains, and drinking plenty of water.
Talk to a pharmacist or doctor if you have any concerns over food or drug interactions, or if you are taking a new drug or food supplement, even if it is a common, over-the-counter one. Carefully read any instructions with the medicine.
What's in a Laxative?
Drugs used as laxatives include:
saline cathartics –dibasic sodium phosphate, magnesium citrate, magnesium hydroxide (milk of magnesia), magnesium sulphate (Epsom salts), sodium biphosphate
stimulant and irritant laxatives – cascara, bisadocyl, castor oil, senna
bulk-producing laxatives – psyillium husk, seeds or hulls, ispaghula husk, methylcellulose
stool softeners – docusate
emollients – mineral oil
hyperosmotic laxatives – glycerine, lactulose, polyethylene glycol
What Drugs Interact With Laxatives?
Because laxatives make things travel more quickly through the gut, they can reduce the amount of drug absorbed – leave about two hours between taking a laxative and taking other drugs.Docusate and mineral oil should not be used together, as docusate is an emulsifying agent and could allow mineral oil to be absorbed in the gut, causing lumps in the gut wall, rather than acting as a lubricant.
Don't take bisadocyl enteric-coated tablets within an hour of taking antacids. Enteric-coated tablets are designed to deliver drugs to the intestine, and taking them with antacids will make the coating break down in the stomach, so releasing the drug too early.Laxatives can lead to potassium loss – this can increase the activity and side effects of antiarrhythmic drugs and cardiac glycosides (used in heart failure), and can affect the potassium-sparing effect of some diuretics. Senna inhibits prostaglandins, and this can reduce the effect of indomethacin, an anti-inflammatory drug.Laxatives should not be used in combination with each other, unless recommended by a doctor.
What Foods Interact With Laxatives?
Taking oil-based laxatives can affect the absorption of the fat soluble vitamins, A, D, E and K, and other nutrients from food.Don't take bisadocyl enteric-coated tablets within an hour of drinking milk, as this can make the coating break down in the stomach, so releasing the drug too early.Bulk forming laxatives should be taken with plenty of water, as this will both soften the stool and replace water lost through softer bowel movements.
You might also like...