Drugs or Foods That React With Antifungals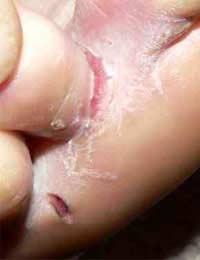 Antifungals are medications used to combat various kinds of health problems, from life-threatening fungal infections to everyday pains such as athlete's foot, which can be bought via prescription or over the counter.
They are also commonly used to treat thrush and ringworm and can be sold in the form of creams, powders, lotions, gels and liquids. They work by attacking the cells of the fungal organism without leaving any lasting or highly dangerous impact on the body, but that does not mean you can rule out any side effects.
Some kinds of antifungals may cause burning, stinging or redness when first applied to the skin, but this should start to disappear after a few days as the body adjusts to the medication.
If these effects persist or worsen, or if you notice any other abnormal or painful reaction, you should contact your doctor or pharmacist as soon as possible.
Types Of Antifungals
There are myriad types of antifungals and a realm of potential interactions with other drugs. People should tell their doctor of all prescription and non-prescription drugs that they're currently using, especially of other skin products. They should also never start or stop any medicine without approval from their doctor or pharmacist.
People can have allergic reactions to antifungals such as econazole, ketoconazole, butoconazole or terconazole. Allergies can worsen and become more harmful if an individual takes vitamins and herbal products alongside these antifungals. Unless your doctor tells you to, you should not use topical antifungals – those that are applied directly onto the skin - on children under two years of age.
Using Other Medicines
People should not use other medicines on the same area of skin where the antifungal has been applied, unless specifically instructed by their doctor. Cosmetics and other skin care products should not be used on the treated skin areas either. The mechanisms in which antifungals react with other drugs can be highly complex and experts, such as Julie Duong from the University of Washington's School of Pharmacy, have published reports revealing where they occur.
Her report published last year found that the anticoagulant warfarin, used to thin the blood, interacts with imidazoles, an organic compound found in many antifungals. Patients who use warfarin and are considering buying an antifungal should contact their doctor. Duong found no interactions between nystatin, present in antifungals used to treat thrush, with other drugs.
If people are taking a systemic antifungal drug such as ketoconazole for a serious infection, then taking an acid blocker such as cimetidine (Tagamet), famotidine (Pepcid), or ranitidine (Zantac) at the same time may prevent the antifungal from working properly.Alcohol should be avoided when taking systemic antifungals and dairy products can also interact with them, so it is always advisable to consult your doctor and have a thorough discussion about any changes necessary to your diet.
The development of oral medications used in the treatment of fungal infections has represented an immense medical breakthrough, but they need to be used carefully and responsibly with full doctor or pharmacist consultation.
You might also like...