Drugs or Foods That React With Antibacterials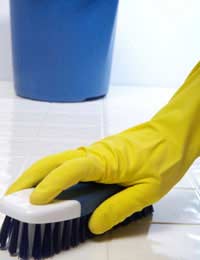 Antibacterials are essentially any agents that work to prevent or cease the growth of bacteria, usually across the surface of the body.
By their nature and purpose antibacterials and antibiotics display several similarities but the term antibacterial itself is normally used as an adjective to describe agents which disinfect surfaces and thwart widespread infection.Antibacterials also need to be used in a specific manner – they need to reach a target area in high enough concentrations and to remain there long enough to eliminate bacteria.
They are not used as everyday medicines for patients to consume, distinguishing them from antibiotics, but are found primarily in cleansing products such as soap, detergent, shampoo, skincare creams and kitchen worktop cleaners. As technology has progressed they have been bonded into products such as plastic containers, toys, fabrics and even chopping boards.
There are two main types of antibacterials – residue forming and non-residue forming agents. The residue forming bracket includes triclosan and triclocarbon, compounds which are often found in soaps. Residue agents act in a prolonged fashion, comprising compounds which leave long-lasting residues on the surface to be disinfected. Non-residue agents, which breakdown bacteria rapidly and leave no form of residue behind, include alcohols, peroxides, chlorine and aldehydes.
Why Do We Use Antibacterials?
Professionals in the healthcare sector have been using non-residue bacterials for decades to control and prevent the spread of disease organisms. When they are administered under the careful guidance of a fully trained doctor, they are a highly effective weapon against bacterial and fungal infection.
Patients should still be wary, however, of potential side effects. Some can cause skin and eye irritation and will exert a severe impact if accidentally consumed.The Alliance For Prudent Use Of Antibiotics has also warned the public about antibacterials contributing to the resistance of antibiotics. While non-residue types such as alcohol show no signs of doing so, residue-producing kinds can create resistance when used in small concentrations, so ask your doctor if you're not sure.
Some antibacterials can also increase or lower the levels of serum – the clear liquid that can be separated from clotted blood - in other drugs. Check with your doctor if you have any concerns.
Interactions
Quinolone antibacterials are prone to several interactions with other drugs. The absorption of quinolone, for example, is reduced with antacids containing aluminium, magnesium and calcium. The therapeutic effect of the quinolone may fail to materialise in this instance.
Other metallic-containing drugs, such as iron salts or zinc salts, can also substantially cut the level at which you absorb an antibacterial. Some antibacterials will also interact with warfarin, the blood-thinning medicine used to prevent the formation of blood clots in the body, so it is advisable to check with your doctor or pharmacist if you are using a blood-thinner.
If caffeine is prevalent in your diet, you may have to reduce the amount of coffee you consume daily, because some medicines that contain certain types of antibacterials can heighten the effects of the drug. Your doctor or pharmacist should be told of any concerns over your current diet or medicines that you have taken.
You might also like...