Drugs or Foods That React With Macrolides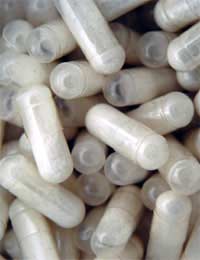 Macrolides are antibiotics often given to those allergic to penicillin and used to treat conditions such as pneumonia, cystic fibrosis or other long lasting health problems.
Why Are Macrolides Used?
Doctors will use macrolides to treat a range of infections and they're increasingly being studied or used for chronic conditions such as acne and rosacea, a skin disorder that causes flushing of the face, neck and upper chest, along with blepharitis, an inflammation of the eyelids.
Macrolides actually work as a group of drugs whose activity stems from the presence of a macrolide ring, which is the key compound of the drug that prevents bacteria from reproducing.Doctors often use macrolides to treat pneumonia in otherwise healthy people younger than 65. For these people, macrolides are effective against the most common causes of bacterial infections that affect the respiratory organs.
Common forms of macrolides include erythromycin, clindamycin and tetracyclines, drugs which have anti-inflammatory properties, as well as the ability to inhibit or kill pathogens that may cause these diseases.Erythromycin commonly causes gastrointestinal adverse effects, especially at higher doses, and if these persist you should call your doctor as there may be an alternative prescription available.
Side Effects
The most common side effects of macrolides include diarrhoea, nausea, upset stomach, vomiting and a sore mouth, but interaction with other drugs and foods can actually help to alleviate these problems. But firstly, it's necessary to be aware of the potential risks.
For example, there are potential interactions between acrolides and statins, which are used for lowering cholesterol that can lead to debilitating muscle problems.People should also avoid macrolides if they are taking anti-histamines such as astemizole, anti-psychotic drugs including pimozide, or drugs used to treat migraines such as ergotamine. Interactions between these medications and macrolides can cause intense pain or nausea.
Clarithromycin and erythromycin can increase the plasma levels of certain other drugs such as carbamazepine that are used to stabilise people's moods, especially those who suffer from epilepsy. Clarithromycin can also interact with the blood-thinning drug warfarin, so ask your doctor if a dose reduction may be required.There are mixed views and reports in the health sector as to whether people who take erythromycin along with common medicines may increase their risk of sudden cardiac arrests. There are reports showing that when it is taken with some medicines that inhibit certain liver enzymes, which certain calcium channel blockers do, then problems may start to occur, but your doctor will be able to clarify the risk.It is also vital that you consult your doctor or pharmacist about your diet when taking macrolides.People should be careful, for example, if they are taking erythromycin with vitamin K or vitamin B6, because the interactions between these can deplete the nutritional effects of the vitamins, but your doctor can advise accordingly. Erythromycin can also interact with calcium, digitalis from the foxglove plant and folic acid, so ask your doctor or pharmacist if these appear in your diet.Conversely, yogurt containing bifidobacterium longum can decrease erythromycin-induced diarrhoea.Your doctor can provide further insight on all other drug and food reactions.
You might also like...