Which Drugs or Foods React With Steroid Based Drugs?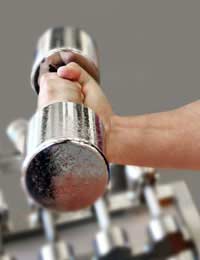 Steroids remain subject to a confusing maelstrom of alarmist headlines, ambiguous medical reports and supportive slogans from the bodybuilding community.
Horror stories of steroid abuse remain few and far between, but the fact remains that there are side-effects and if they're not taken responsibly, serious risks.
What Are Steroids Used For?
The most commonly known and used, anabolic steroids, are synthetically produced variants of the naturally occurring male hormone testosterone. While this type is used for tissue building, androgenic steroids are employed to enhance male characteristics. There are also corticosteroids, a different steroid used to treat conditions such as arthritis.
After several months of controlled use, anabolic steroids can achieve the desired effect of increased muscle size but premature balding and aggressive mood swings often come with it.
What Are The Risks?
Some of the risks presented by anabolic steroids' reaction to other drugs have been misrepresented, but bodybuilders can harm themselves by taking various types simultaneously.
Different anabolics including anadrol and anadur are often used at the same time, a process known as stacking. This may increase the risk of side effects such as liver damage and accelerated hairloss. Intensive use of a combination of these steroids can lead to what is called roid rage, an uncontrollable bout of aggression. Patients should always contact their doctor if they are steroid users and considering using anti-depressants such as Xanax or a painkiller like hydrocodone.
There are kinds of corticosteroids that will react with painkillers. Drugs containing aspirin or other anti-inflammatory medications should not be taken when an individual is taking steroids for radiotherapy, unless cleared by a doctor.Choosing the right diet while using anabolic steroids is vital.
Highly disciplined bodybuilders who take steroids as part of a controlled regime are advised by information services such as Steroid.com to ensure they have a sufficient intake of high-quality protein from rice, oats, whole wheat bread, noodles and vegetables. The website also states they should have a sufficient supply of calories.
A diet with too much salt, however, will compound any unwanted side effects of taking some steroids such as cortisone. An individual can gain substantial weight through prescribed steroids because of excess water stored in the body – a condition termed as sodium retention. Less salt in an everyday diet while on steroids will help to reduce this problem.
One of the lesser known cases involving steroid misuse was of a 19-year-old woman from the west coast of America who entered a bodybuilding contest in 2002, lifting weights and eating a high-protein diet. She switched to a drastically reduced intake of food and water and began taking anabolic steroids and a diuretic. The steroid added muscle and the diuretic drained the body of fluid to make the muscle stand out.
After winning, she resumed drinking and eating normally but her weight shot up by 25 pounds in three days. The diuretic had masked the amount of muscle built up and her muscles had crushed blood vessels in her legs. She required surgery, but survived.Such cases are rare, but it shows that GPs' advice is crucial.
You might also like...