Which Drugs or Foods React With Non-Steroid Based Drugs?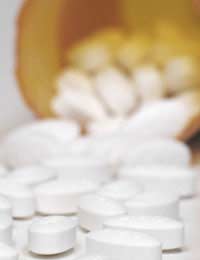 Non-steroid based drugs are often referred to by the full acronym of NSAIDs, examples include ibuprofen, naproxen sodium and ketoprofen. Aspirin is technically a NSAID but is considered separate due to several unique qualities it possesses.Non-steroid based drugs are analgesic (pain relieving), antipyretic (fever reducing) and anti-inflammatory. Because of this mixture of properties they are used for a wide spectrum of ailments from a common headache to arthritis.
As these drugs are mostly available over the counter without a prescription, people sometimes presume that there is no need to consider what other drugs or food may interact with non-steroid based drugs, but that should not the case.
What Do Non-Steroid Based Drugs Do?
Non-steroid based drugs reduce the effects of many antihypertensive (high blood pressure) medications that are designed to reduce blood pressure to a healthier, more manageable level. This means NSAIDs should not be utilised by anyone undertaking a course of beta-blockers such as metoprolol (lopressor), propranolol and atenolol (inderal, tenormin). In addition, thiazide diuretics, for instance hydrochlorothiazide (maxzide, dyazide) should not be mixed with non-steroid based drugs. Finally, in terms of blood and heart related medication, angiotensin receptor antagonists like lisinopril (prinivil, zestril), quinapril (accupril), enalapril (vasotec), ramipril (altace), captopril (capoten) and benazepril (lotensin) should not be mixed with non-steroid based drugs.Non-steroid based drugs can also have a dangerous effect on certain medications that act upon the brain, for example clonidine (catapres) and as such must be completely eliminated.
Non-steroid based drugs should only be taken with anti-coagulants for severe sinus headaches, as warafin (coumadin) in combination with NSAIDs can cause major bleeding and toxicity which is potentially fatal. It's recommended to avoid taking non-steroid based drugs with aspirin, naproxen sodium or other antipyretics unless cleared by a health professional.
In the medical industry it is thought that ibuprofen may increase blood levels of digoxin (lanoxin). Despite this belief it remains unclear whether the interaction is strong enough to warrant advising patients who are prescribed digoxin to not take ibuprofen. There is also mounting evidence that caffeine and antihistamines can increase the effects of some non-steroid based drugs. The theory is that caffeine augments the pain relieving qualities of ibuprofen, which could be dangerous in high doses. Another suspected interaction that is still being researched is the notion that non-steroid based drugs interact negatively with the medication AZT (zidovudine, retrovir), which is taken by sufferers of HIV-related disease (e.g. AIDS).
In terms of diseases, ibuprofen must be avoided with several conditions such as nasal polyps, asthma, heart failure, plus liver or kidney problems.
All non-steroid based drugs should be on no account be taken whilst on a course of steroids as they can increase the risk of gastro-internal bleeds. Finally as with virtually all pharmaceutical drugs, NSAIDs should not be taken with alcohol. Anyone who consumes more than 3 alcoholic drinks a day should consult a physician before taking non-steroid based drugs.Non-steroid based drugs are best taken with milk, food or antacid in order to reduce stomach irritation.
You might also like...