Drugs or Foods That React With Chemotherapy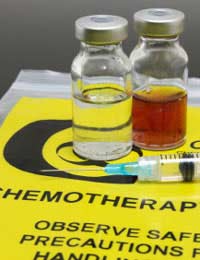 Chemotherapy is one of the 20th Century's greatest medical discoveries. Cancer had previously been a disease that was almost always fatal. But in the 20th century the realisation that certain chemicals could be used to kill off cancer cells paved the way for a new form of cancer treatment that would go on to save numerous lives. However the revolutionary treatment is not without fault.
Patients can experience really unpleasant side effects including sickness, hair loss and extreme fatigue.Cancer sufferers will generally receive a combination of drugs. Doctors will rarely prescribe just one type of chemotherapy. A combination of drugs can combat the cancer more effectively.
Side Effects of Chemotherapy
There are various forms of chemotherapy, some are stronger than others and therefore have more severe side effects. The side effects also depend on the intensity of the treatment. Some forms of chemotherapy including Cisplatin are particularly powerful and can result in severe nausea, fatigue and hair loss. However all chemotherapies have unpleasant effects.
Drugs Reacting With Drugs
Sometimes different forms of chemotherapy when used together can react badly with each other. A common example of this is the common breast cancer drug Paclitaxel and another form of chemotherapy called Doxorubicin. When used together side effects were increased and the effects of the Doxorubicin were reduced by the Paclitaxel.
Anti-cancer therapy Trastuzumab is also well known for reacting with chemotherapy. Despite providing good results in terms of increased response to treatment the combination of Trastuzumab and chemotherapy can result in cardiac difficulties.
Drugs Reacting With Food
There are no foods that are known to react with chemotherapy in terms of reducing or altering the effectiveness of the drugs. However, as is well known, nausea is a very common side effect of chemotherapy. Because of this eating anything at all can be a challenge! But it is vital that sufferers keep their strength up. Eat little and often as opposed to attempting big meals. Try food with little flavour if you are feeling sick, a piece of toast for example or a little bit of cereal. Since the nausea can be extreme it is recommended that when a patient does feel like eating something, whatever it is, they have it.
Drugs Reacting With Drink
Certain forms of chemotherapy require no alcohol to be consumed when taken. One such form is Procarbazine which is commonly used in the treatment of brain tumours. If alcohol is consumed while a patient is on this medication the patient can experience breathlessness, dizziness and sickness. Of course you may find that alcohol is the last thing you want when you're feeling so ill!If you have any concerns about the chemotherapy and anti-cancer drugs you are being prescribed you should contact your doctor immediately. Going through cancer treatment is tough and the patient is bound to have many concerns and worries. Don't keep them to yourself. Speak to your doctor and do your research. Worrying in silence will only heighten your concerns. Your doctor will be more than happy to address your concerns.
You might also like...
grapefruit juice, garlic, and hypericum st john wort, are well known to interfere negatively with chemotherapy
den
- 8-Nov-11 @ 11:37 AM