Which Drugs or Food Interact With Contraceptives?
By: Suzanne Elvidge BSc (hons), MSc - Updated: 15 Sep 2012
|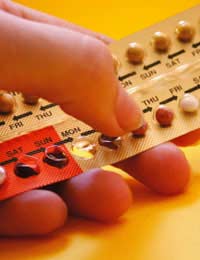 Contraceptives are used to prevent pregnancy. Contraceptives can act in a number of different ways, by stopping ovulation (the production of eggs), thickening the mucus in the cervix, making it harder for sperm to get through to fertilise the eggs, and thinning the lining of the womb (uterus), so making it harder for fertilised eggs to attach to the lining.
Contraceptives are given in a number of different ways - as daily oral pills either taken every day (either 21 active pills and seven dummy pills, or active pills every day) or taken for 21 days, with a seven day break. Oral pills can be a combination of an oestrogen and progesterone, or progesterone-only, and can be monophasic (the dose is the same every day) or multiphasic (the dose changes throughout the cycle).
Contraceptives can be injected, given as an injection into the muscles every three months, an implant as rods placed under the skin, and is delivered over three years, or as an intrauterine device (IUD), with the drug as part of an IUD placed in the womb, where it is released over five years. There are also emergency oral pills, which are higher dose pills taken within 72 hours of unprotected sex.
Talk to a pharmacist or doctor if you have any concerns over food or drug interactions, or if you are taking a new drug or food supplement, even if it is a common, over-the-counter one. Carefully read any instructions with the medicine.
What's in a Contraceptive?
Drugs used as contraceptives include:
estrogens – ethinyl estradiol, mestranol
progesterones – cyproterone acetate, desogestrel, drospirenone, ethynodiol diacetate, etonogestrel, gestodene, levonorgestrel, medroxyprogesterone acetate, norethindrone acetate, norgestimate
What Drugs Interact With Contraceptives?
A number of drugs can reduce the effectiveness of contraceptives, including azole antifungals and griseofulvin (used in fungal infections), barbiturates (used in anxiety and as anaesthetics), bosentan (treats pulmonary artery hypertension), carbamazepine (used in epilepsy and bipolar disorder), felbamate and topiramate (used as antiepileptic drugs), HIV protease inhibitors (e.g. amprenavir, nelfinavir, ritonavir) and nevirapine (for HIV infection), hydantoins (for a range of diseases, including phenytoin for epilepsy), primidone (epilepsy), modafinil (used to treat daytime sleepiness), penicillins, tetracyclines, cephalosporins, rifamycins, chloramphenicol, macrolides and sulfas (antibiotics for bacterial infections), St. John's wort (a herbal treatment for depression), rifampicin and rifabutin (tuberculosis), soy isoflavones (a food supplement), aprepitant (prevent and treat nausea and vomiting), glitazones (e.g. pioglitazone, rosiglitazone used to treat diabetes), bexarotene (used in skin cancer) and dapsone (an antiparasitic agent).
Contraceptive drugs can make anticoagulant (blood thinning) drugs more active.
Contraceptive drugs can increase the side effects of beta blockers (used to lower blood pressure, corticosteroids (used to reduce inflammation and swelling), insulin (used in diabetes), selegiline (for Parkinson's disease), theophylline (a bronchodilator for asthma and other lung diseases), or troleandomycin (an antibiotic).
Contraceptives can reduce the effectiveness of lamotrigine (used in bipolar disorder), and if the contraceptives are stopped, can caused side effects including nausea, dizziness and vision problems.
Aminoglutethimide (an anti-steroidal agent, used in Cushing's disease and breast cancer), can affect the absorption of injectable medroxyprogesterone acetate if given at the same time.
You might also like...