Drugs or Foods That React With Antihistamines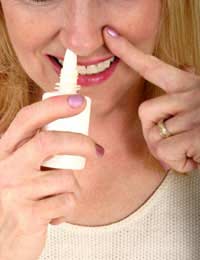 In order to understand how antihistamines work one needs to know how everyday symptoms are unleashed by histamines themselves.A constant problem for millions of people across the UK, histamines are the uncomfortable, irritating manifestation of the body's self-defence system. They are essentially chemicals released by cells of the immune system during an inflammatory response to killing off germs.
This response is activated when the immune system detects a foreign substance such as a germ and takes action against it, beginning one of the body's key defences against infection. The inflammatory response helps to neutralise bacteria that enter the body when an accident occurs such as the skin being cut with a knife.
What Do Anti-Histamines Do?
Histamine acts almost like an instructor, kick-starting a process whereby other cells start up their own defences. This makes the spot where the germ entered the body red, swollen and sore.
Antihistamines work by blocking the action or 'instruction' of histamine to get other cells working, therefore easing the symptoms in the process. Nevertheless, the effects that an individual experiences because of this self-defence mechanism can be hayfever, itchy eyes, skin rashes and general allergic reactions, but these physical irritants are defined only as small-scale inflammatory responses.
Antihistamines can come in the form of tablets, capsules and syrups, as well as eye drops, nasal sprays, creams, lotions and injections. They are an extremely helpful medicine, a commodity even, for millions of people.There are several different drugs and food types, however, that react with antihistamines. Those suffering allergies who will ultimately require antihistamines need to be aware of them.
Interactions
The antihistamines terfenadine and mizolastine can interact with some other medicines and with grapefruit juice to cause a serious abnormal heart rhythm. These antihistamines are only available on prescription from your doctor who will give you advice. People should also be aware that alcohol can increase the sedating effects of antihistamines.Antihistamines may also increase the effects of other drugs that slow down the central nervous system such as tranquillizers, barbiturates and sleep aids, so go easy on the Nytol and Night Nurse. People should always check with their doctor before combining antihistamines with other central nervous system depressants.
If people are undergoing treatment and being prescribed monoamine oxidase inhibitors for Parkinson's disease, depression or other psychiatric conditions, they should not take antihistamines. Parnate and Nardil are examples of these inhibitors.Anyone who has been taking inhibitors should check with their pharmacist before taking antihistamines.People should always check with a physician before combining the antihistamine chlorpheniramine (deconamine) with asthma medicines such as albuterol (proventil) and bromocriptine (parlodel) , blood pressure drugs such as mecamylamine (inversine) and narcotic painkillers such as meperidine (demerol). There are also potential reactions between deconamine and tranquillizers such as diazepam (valium) and alprazolam (xanax).
There are other potential risks posed by the antihistamine loratadine (claritin) if it is taken with the antiulcer drugs cimetidine (tagamet) and ranitidine (zantac), both of which are also taken for heartburn. These interactions can cause liver problems.
You might also like...