Drugs or Foods That React With Allergy Sprays?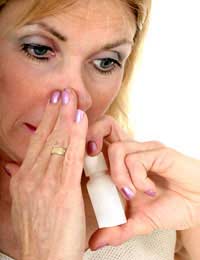 Allergy sprays are manufactured to combat negative reactions from many different sources. Allergy sprays are used to treat the following symptoms of an allergy: itchiness, runny noses, sneezing, congestion, eye watering, hives, rashes and more. The causes range from tree and grass pollen, to dust mites and animals. As a result there is a wide range of allergy spray products on the market.Because allergy sprays are available over the counter without a prescription, people sometimes presume that there is no need to consider what other drugs or food may interact with them, but that should not be the case. Any medication can have an adverse reaction and it is important to make sure you know what reacts with what.
Decongestants
Decongestants are probably the most well known form of allergy spray, these includes drugs such as pseudoephedrine (more commonly known as sudafed), oxymetazoline (afrin nasal spray) and naphazoline (4-way fast-acting nasal spray). These forms of decongestants must all be avoided within a two week period of having taken monoamine oxidase inhibators (MAOIs). Examples of these are: pargyline (eutonyl), phenelzine sulfate (nardil), tranylcypromine (parnate), isocarboxazid (marplan) and procarbazine (matulane).
Illegal narcotics, particularly cocaine are capable of causing increased blood pressure when taken with allergy sprays. In terms of food it is best to take precautions when taking decongestants in tandem with herbal drug preparations which have properties that increase blood pressure such as ephedra (ma huang).
How to Use Allergy Sprays
Before using any corticosteroid allergy spray it is crucial to inform your doctor of any viral, bacterial or fungal infections you may have as once this drug enters a person's system it can deteriorate the bodies' ability to fight infections. Likewise, a doctor must also be informed of all prescription and non-prescription drugs that are being taken. This applies in particular to medication for Parkinson's Disease and antispasmodics (atropine, propantheline, clidinium). Plus any other cortcosteroids or anthistamines (which are often found in cough and cold preparations).
When using corticosteroid allergy sprays avoid exposure to chickenpox or measles for a period of up to one year after using the allergy spray as failure to do so can lead to undesirable consequences.
Allergy sprays should not be utilised by those who have recently had nasal surgery, previous nasal damage or a nasal septum ulcer. It remains undetermined how most allergy sprays affect women who are pregnant or breast feeding so it is best to check with a doctor should you be in either position. Most allergy sprays should not be used by children as though it is unlikely, they can affect growth patterns.
There are several antihistamine nasal sprays available such as azelastine (astelin) and they should be avoided by those who suffer from cataracts, narrow angle glaucoma, or who are using or have recently been using any of the aforementioned MAOI drugs. Any other drugs that can cause drowsiness can interact badly with antihistamine allergy sprays such as alcohol, sedatives, tranquillisers and sleep preparations. Again this applies to the same two-week period lag time. In the case of drug interactions specific to a certain allergy spray it is best to consult a pharmacist.
You might also like...