Which Drugs or Foods React With Anti-depressants?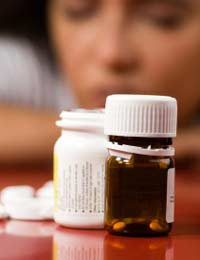 It is a sad fact but more and more people are diagnosed with depression than ever before. The stress of modern living leads many people to their GP's surgery where they are prescribed anti-depressants. Once very much stigmatised anti-depressants are now used quite commonly but there are some side effects that users should be aware of, including interactions between anti-depressants and various foods and drink.
Side Effects of Anti-depressants
Anti-depressants can have many side effects. Each patient is different and the side effects may vary from patient to patient but common side effects include dry mouth, poor vision, constipation and other bowel discomfort, sleeplessness, headaches, sickness, stomach pains, impotence and weight gain. If you experience any unpleasant side effects after taking anti-depressants then you should contact your doctor immediately. He or she will be able to advise you of whether or not you should continue taking the medication or whether another variety should be prescribed.
Food And Drink Interaction
There are various varieties of anti-depressants and therefore various food and drink interactions that can take place. Commonly used anti-depressants include Monoamine Oxidase Inhibitors and Phenelsine. These drugs are used to treat a variety of depression and emotional disorders.
When taking these medications patients must adhere strictly to the guidelines regarding how to take them. Foods containing tyramine should be avoided when taking these medications. Consuming foods with this in could lead to a potentially fatal increase in blood pressure.
Alcohol should be avoided when taking these anti-depressants. Red wine and beer in particular, even low alcohol varieties, can cause unpleasant reactions and affect the effectiveness of the medication.Alcohol of any variety should be avoided when taking anti-depressants as research shows it can interact with the drugs.Paroxetine and Prozac are other varieties of anti-depressants. These drugs can be taken on an empty or full stomach and do not have to be taken at a certain time i.e. before or after eating. It is not known whether alcohol interacts with these drugs although it is suspected that it does not.
However people suffering from depression should avoid alcohol. While it may help to block out problems in the short term in the long term it can make the situation worse. If you feel depressed and are struggling to cope then you should speak to your doctor immediately. He or she will be able to get you some real help.
It may be that talking to someone helps you to get through your problems but if not they can also recommend and prescribe certain anti-depressants. They will be able to advise you on the best course of action to take.If you find you anti-depressants are reacting with any other drugs or with any foods or drinks then you should speak to your doctor. Interactions can occur in some people while not in others. If you think something you are eating is interacting with the drugs you are taking then you must speak to your doctor. However you should not stop taking the drugs until your doctor advises you to do so.
You might also like...